Dounreay sphere to be demolished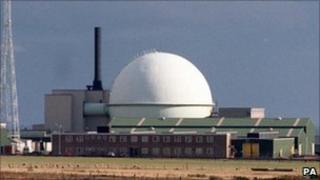 The landmark sphere at the Dounreay nuclear plant will be demolished, the site's operator has said.
It had previously been suggested the structure could be kept as a reminder of the far north's role in the development of nuclear energy.
Dounreay Site Restoration Limited (DSRL) said the sphere was likely to be among the last parts to be torn down.
The site will remain out of bounds to the public for almost 300 years after buildings have been removed.
DSRL has set out what will be saved and what will go at the site in its newly-published heritage strategy.
The document has taken two years to put together and includes the start of an artefacts collection.
Staff and experts involved in producing the strategy looked at the US Manhattan Project Preservation Initiative for ideas.
The Manhattan Project was launched to develop nuclear weapons during World War II.
While the sphere will go, artefacts to be kept include sphere-shaped note-pads, mugs and cartoons drawn for retiring staff.
DSRL said some of the buildings, including the sphere, contained major nuclear and chemical hazards and could only be retained in the short term.
But the strategy rules out their preservation once the hazards have been removed.
Demolishing the sphere is expected to take nine to 12 months to complete and DSRL hope to recycle as much of the 1,600 tonnes of steel used in its construction as possible.
Managing director Simon Middlemas said: "Many of the remaining properties, including the sphere, continue to perform important roles in the containment of nuclear hazards until we can complete their decommissioning.
"But many are rotten with radioactivity and, despite extensive soul-searching and consultation, we've not been able to identify any practical proposal for their retention.
"This strategy will allow us to get on and keep those things worthy of preservation and clear away the rest."