North winter road salt stocks 'expected to be adequate'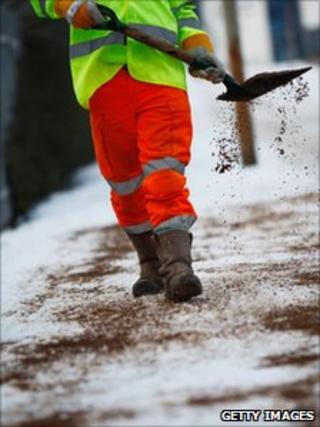 Stock piles of salt to treat icy roads in the Highlands are expected to be "adequate" for the coming winter, according to council officials.
Last winter, there were shortages of salt for Highland Council and other authorities across the UK because of prolonged spells of bad weather.
Highland has started purchasing salt, with deliveries due to arrive this month and during October and November.
Councillors will be informed of the arrangements later this week.
In a report, officers said: "At this stage it is anticipated that there will be adequate salt supplies available."
They added: "A new arrangement has been agreed for a strategic salt stockpile of 10,000 tonnes at Longman for Scotland Transerv to use on the trunk road network."
Highland Council has been reviewing how it handled conditions last winter.
In January, the authority took emergency measures to conserve stocks of salt on advice from the Scottish government.
Low priority routes, such as urban roads, school bus routes, rural roads and residential areas, were treated with grit only.
Between December and January it had used 51,000 tonnes of salt at a cost of £1.5m.