Glendoe restart date pushed back to 2012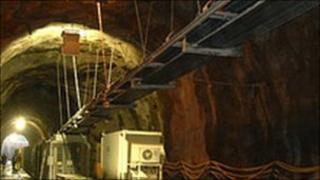 A £140m hydro-electric scheme is not expected to resume the generation of electricity until 2012.
In August 2009, just months after it had opened, the Glendoe scheme, near Fort Augustus in the Highlands, was shut down by a rock fall in a tunnel.
Operator Scottish and Southern Energy (SSE) previously said the digging of new tunnels would see Glendoe return to work in April 2011.
It has now reported the new date in an update of its five-year programme.
The rock fall was in a tunnel carrying water from a hilltop reservoir to a massive turbine.
The company said: "Work on the construction of the new tunnels required to allow electricity generation to resume at the Glendoe hydro-electric scheme is now fully under way.
"SSE can, therefore, now forecast a return to electricity production on the basis of progress so far, and it expects this to take place in the first half of 2012."
The hydro scheme at Glendoe was officially opened by the Queen in June last year.