Inuit loophole for sealskin sporrans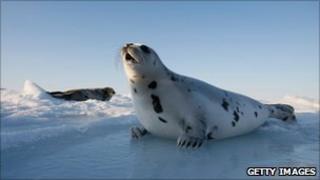 Scottish kilt makers who have been prevented from making sealskin sporrans due to an EU trade ban have been handed a lifeline by the Inuit.
The indigenous people in the Arctic region of countries such as Canada argued the ban was detrimental to their traditional way of life.
A ruling has now temporarily exempted them from the effects of the ban, which came into force last month.
Sporran manufacturers said it would allow the continued use of the skin.
Sporrans, Scottish Gaelic for purse, are worn with kilts as an essential part of tradition Highland dress.
Ian Chisholm, of the Scottish Kilt Makers' Association, said: "Seals have been used down the generations. It has been a traditional skin.
"The way the light hits the skin, it has a lovely sheen to it and a lustre that gives a lovely quality to it."
European MPs voted in favour of a ban on the trade in seal products last May and the law came into force in August.
Road kills
The move followed a three-year campaign triggered by a public outcry at annual seal culls in Canada and Norway.
Synthetic materials and rabbit fur have been used in sporrans as an alternatives to seal skins.
A taxidermist in the Highlands is using wild animals knocked down and killed on roads to make sporrans.
Kate Macpherson, of Beauly, Inverness-shire, has collected badgers, foxes, deer and stoats from verges.
She said she only used animals that would otherwise have lain rotting by the side of a road.
However, animal welfare campaigners have criticised the product, claiming it will lead to the deaths of other animals.
Mrs Macpherson said she was inspired by the badger skin sporran worn by her father's Army regiment.
The mother-of-three's friends and neighbours tip her off on the location of road kills.