Inverness priest locked in with intruders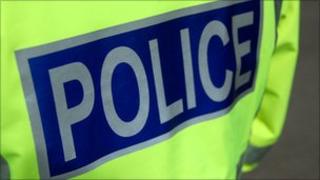 A priest locked himself inside his own church along with two thieves in an attempt to detain them.
Fr Piotr Koczorowski struggled with the pair before they broke down a door and fled St Mary's Church in Inverness.
He was alerted to the break-in by an alarm that went off in the sanctuary at about 1830 BST on Wednesday.
Fr Koczorowski said: "I locked the doors and tried to keep them inside, but they jumped on me and one of them hit me."
'Been drinking'
DI John Patience, the police officer leading the investigation, described the break-in and assault as "a cowardly and shameful act".
Fr Koczorowski said: "I think they were trying to steal two devices which are used for wireless microphones.
"I struggled for a while, but they managed to escape. One of them also ran into one of the internal doors in the church and broke it.
"One of them fell on the pavement and both seemed as though they had been drinking. I would just ask anyone who saw these men leaving the church to come forward and speak to police."
The priest was not seriously injured.