Alness woman claimed benefit for 11 fictitious children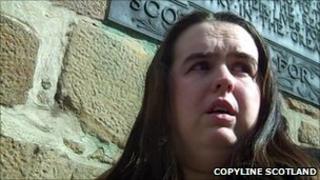 A benefit cheat received almost £17,000 for 11 fictitious children while not claiming anything for her real child, Tain Sheriff Court has heard.
Some of the children made up by Lisa Watson, of Alness, were born just days apart. She has repaid some of the money using winnings from horse racing bets.
Sheriff David Sutherland said it was one of the worst benefits frauds he had encountered.
He warned Watson, 28, she faced prison if the money was not repaid in full.
Watson admitted making fraudulent claims to obtain working tax credits and child tax credits between July 2006 and May 2007.
She received £16,787 to which she was not entitled, by pretending to HM Revenue and Customs officers that she had charge, care and financial responsibility for 11 children.
Sheriff Sutherland said: "I must say this is one of the worst frauds I have come across in the benefit system.
"It is quite appalling how one can claim to have this number of children when they don't. It was something you did knowingly."
He added: "I intend to have this money repaid in full. I want to make it quite clear that if the repayments are not maintained then it will be inevitable that a lengthy custodial sentence will be imposed."
Betting shop
Sheriff Sutherland had previously deferred the case for clarification on how much money had been repaid.
Defence lawyer Diane McFarlane said Watson had paid back more than half of the money wrongly claimed.
The solicitor produced bank statements proving Watson had been paying at least £40 a week, topped up with more money when she could.
On inspecting the statements, Sheriff Sutherland asked about a transaction involving £2,500 at a betting shop.
Ms McFarlane said: "Her partner occasionally bets on horses and was successful to get £2,500, of which £2,000 was paid towards the tax credit."
Sheriff Sutherland instructed Watson to make minimum payments of £50 a week, warning her: "The history of this case is appalling.
"If the payments are not maintained and this is not paid back then it will be inevitable that a lengthy custodial sentence will be imposed."
Sheriff Sutherland deferred sentence again until December for Watson to prove she can make regular repayments of £50 a week.