Creel boat needed to take minister to Rona cave wedding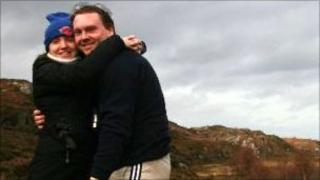 A couple have wed in what is believed to be the first marriage in a cave on Rona, but only after the minister reached the isle by fishing boat.
Andy Taylor and Jaclyn Harbot, from Westhoughton, near Bolton, tied the knot in Church Cave where the islands' former inhabitants met to worship.
Because of high winds, a creel boat was asked to take minister Donald MacDonald from Skye to Rona.
Boats normally used for the crossing could not go out in the weather.
Rona lies off the tip of Raasay between Skye and the Scottish mainland and has a population of just two.
The couple fell in love with Church Cave on a holiday to Rona in November last year.