Highland Council criticises IT contractor Fujitsu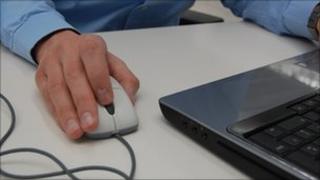 Contractor Fujitsu has been criticised by Highland Council's resources committee for failing to provide the authority with a quality service.
The IT company was awarded a renewed contract worth almost £70m by the council earlier this year.
Councillors have been told that deadlines have not been met and the service was not of a standard the authority had expected.
Fujitsu said any problems would not impact on the overall contract.
The resources committee has agreed to ask for a high level meeting with company bosses.
New computers
Fujitsu said it was not invited to Tuesday's meeting as Highland Council said it was up to council officers to address the members.
A spokesman added: "Whilst there has been some slippage in some of the milestones of this very complex transformation programme, it is on track to be delivered on time and to budget.
"We are working with the council team to ensure the current issues do not impact the overall programme."
Part of the contract is the provision of new computers and printers for schools.
The EIS teachers' union has accused the council of negotiating a poor contract with Fujitsu.
Local EIS secretary Andrew Stewart said the basic problem was that the contract focused on financial considerations not educational ones and consultation with schools was inadequate.