Special spoon stirs World Porridge Making Championships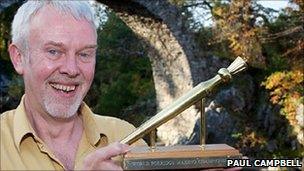 The winner of this year's World Porridge Making Championships has credited his success to pure hill water and a specially designed spoon.
Neal Robertson, from the Tannochbrae Tearoom in Auchtermuchty, won the Golden Spurtle award at the event in Carrbridge in the Highlands.
His Spon, a wooden, double-backed spoon, was designed to give twice the power to mixing and beating.
The annual competition was said to be the closest run in its history.
The world title, contested by people from all over the world, is awarded to the porridge-maker deemed to have made the best traditional porridge using oatmeal, salt and water.
Among the contenders were the 2009 winner Matthew Cox, from Oregon in the US, who had returned to Scotland to defend his title.
Related Internet Links
The BBC is not responsible for the content of external sites.