Back Highland Chieftain campaign says Danny Alexander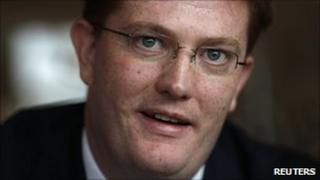 Chief Secretary to the Treasury Danny Alexander has encouraged his Highlands constituents to back a campaign to protect a rail service.
The Highland Chieftain service provides a direct, daily service between Inverness and London.
But under proposed changes, the service would stop at Edinburgh and passengers would have to change trains to continue their journey.
Mr Alexander said he would urge travellers to back the campaign.
His call is made in a comment piece for the Badenoch and Strathspey Herald.
Another newspaper, the Inverness Courier, has also been running with the save the Highland Chieftain campaign.
Mr Alexander, MP for Inverness, Nairn, Badenoch and Strathspey, said the UK government was expected to make a decision on the new trains project soon.
The last government suspended a project to commission new high-speed inter-city trains because of concerns about how much it would cost.
Among alternatives suggested by civil servants was for passengers travelling from Inverness to change at Edinburgh from diesel trains to electric locomotives running onto London.
In the newspaper, Mr Alexander wrote: "It is impossible for final decisions to be made until the type of trains available is confirmed.
"However, I do not doubt the importance of the direct daily links to London which both the Highland Chieftain and the Caledonian Sleeper provide for our area."
Mr Alexander also expressed concerns for older passengers and less mobile passengers if they had to change trains at Edinburgh.
He wrote: "I would urge travellers in the Strath to support the campaign to make sure the Highland Chieftain is safe.
"I will work hard to make sure the message is understood within government."