Quick work to rescue slow worms at Lochaber school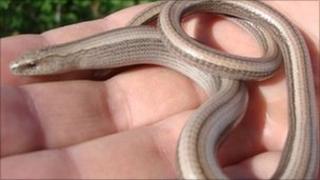 Children at a Highlands primary are in a race against time to rescue slow worms from the site of their new school.
The legless lizards were found at Lochaline Primary in Lochaber by an ecologist asked to survey the new school site nearby.
Scottish Natural Heritage (SNH) has recommended catching and relocating them before they go into hibernation.
Work on the new building could start in spring next year.
The children have laid out mats, carpet tiles and strips of corrugated iron in their nature garden to help try to catch the lizards, which are a protected species.
When the sun shines these materials warm up more than the surrounding vegetation and it is hoped the cold-blooded slow worms will congregate underneath them.
Fire station
Head teacher Keith Adams will keep the slow worms in his garden compost heap for the winter.
The children plan to bring some of them back to the school grounds once the new school has been built.
Cathy Mordaunt, SNH area officer, said: "This is a great project and we wish the Lochaline pupils every success.
"Slow worms have far fewer places in Scotland to find food and shelter than they did in the past, so it's crucial that we make every effort to protect them when we can."
The new school building will have provision for a new fire station for the area in line with efforts for public buildings to be multi-purpose.