Ray Mears wary of bringing wolves back to Scotland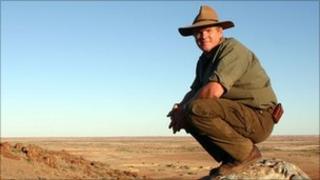 Outdoors survival expert Ray Mears has warned that re-introducing wolves to Scotland could lead to public resentment of the animals.
Speaking to Richard Madeley on BBC Radio Two, he said the predator could cause upset through its natural behaviour.
Releasing wolves into the wild has been the subject of a long-standing debate among conservationists.
A Highlands estate shelved plans to introduce wolves earlier this year.
In the radio interview, Mr Mears questioned the reasons for bringing wolves back to Scotland.
He said: "If someone was saying we are releasing them because we think it will create an eco-system that was more harmonious and because their absence was felt in the landscape then I would agree with it.
"If we were releasing them because we want to see them, I don't think that is a good enough reason."
Mr Mears added: "When you release an apex predator you have to think how you are going to control it because it is going to do its thing.
"Often what happens in these situations you are going to have an animal that people then resent. I don't think we should condemn an animal because it is living to its nature."
'Weren't comfortable'
Alladale Estate, at Ardgay in Sutherland, had proposed releasing four wolves from Romania in a secure area.
However, in May this the plan was dropped in the interests of the animals' welfare.
General manager Hugh Fullerton-Smith said it was still the long-term ambition of the estate to introduce wolves, but into a much larger area.
He said the plan for the wolves was to use information on them in outreach education projects.
Mr Fullerton-Smith said at the time: "We studied very carefully small enclosures throughout Britain and, to be frank, we weren't comfortable about bringing them into very small enclosures on welfare grounds."