Blade fault on giant tide turbine AK1000 in Orkney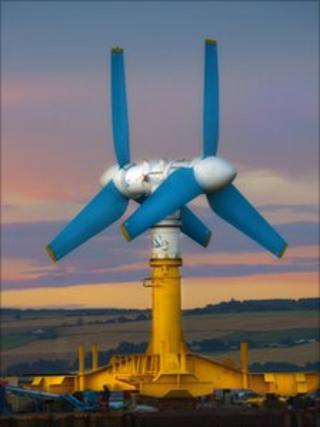 A fault has been detected with the blades on a massive prototype tidal turbine which has been undergoing tests in Orkney.
Atlantis Resources unveiled the AK1000 in Invergordon in August. It is the largest tidal turbine of its type.
The company said supplier Tempco Manufacturing in Singapore had taken responsibility for the fault.
The device has been installed at European Marine Energy Centre, but has not been spun or connected to the Grid.
Atlantis Resources said teething problems were not unexpected when testing a prototype device and it remains confident that the trial would be successful.
A spokesman added that deployment of the turbine at the test site was achieved at the first attempt over a seven-day period in August.
Tempco Manufacturing said the problem with the blades was regrettable.
A company spokesman added: "We acknowledge that it was an unexpected manufacturing fault that we believe relates to the composition of the composite material used during the fabrication process.
"We are continuing to investigate the reason for the fault."
The device stands 22.5m (73ft) tall, weighs 1,300 tonnes and has two sets of blades on a single unit.
It could generate enough power for 1,000 homes.