Lives of historic Highland gentlewomen explored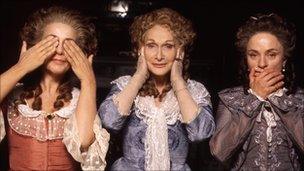 The lives of women in Highlands high society in the 18th and 19th centuries are to be explored in a lecture by historian Dr Stana Nenadic.
Her talk, in Dornoch, draws on research of letters, memoirs and poetry written by the wives and daughters of lairds and noblemen.
The lecture will be dedicated to the late historian and feminist Sue Innes.
It forms part of the 10th annual Women's History Scotland event, hosted by Dornoch's UHI Centre for History.
Dr Nenadic's free public lecture next Friday will be followed by a conference on Saturday called The Women in/on the Land (Scape): Gender, Space and Environment in Women's and Gender History.
It will also be held in Dornoch.
'Fashionable consumerism'
Dr Nenadic, of the University of Edinburgh, said women's relationship with the Highlands landscape changed through the 18th and 19th centuries.
She said: "The erosion of Gaelic culture, the experience of migration and dislocation, the pressures to conform to fashionable consumerism, all contributed to new ways of viewing and behaving within the Highland landscape.
"Sometimes the landscape in question was owned by the families to which these women belonged.
"But increasingly, given the waves of bankruptcies that hit the Highland elite, this was the landscape of the imagination, viewed at a distance or through pictures, and permeated with a sense of loss."
Related Internet Links
The BBC is not responsible for the content of external sites.