Tartan scarf marks Mary MacKillop's canonisation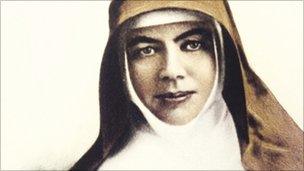 A MacDonald tartan scarf, along with coffee cups and t-shirts, have been produced in Australia to mark the recognition of its first saint.
Melbourne-born Mary MacKillop, who died in 1909, will be canonised next Sunday.
Her mother Flora MacDonald was born in Fort William and lived in Roy Bridge, from where people are expected to make a pilgrimage to Rome for the ceremony.
The merchandise has been produced in Australia to mark the occasion and also includes caps, bags and a tea set.
Coasters, a commemorative spoon and a silver coin have also been produced.
Large numbers of Australians are also expected to make pilgrimages to Rome.
There is a shrine to Mother Mary at St Margaret's Church in Roy Bridge. The nun visited the village in the 1870s.
Her work for the Catholic Church was sometimes controversial - and in 1871 she was excommunicated for insubordination.
The Church exonerated her three years later and she was eventually put on the road to sainthood by Pope John Paul II, who beatified her in 1995.
For anyone to become a saint, the Church has to officially recognise them as having carried out two miracles.
Pope John Paul II recognised the first, and last year Pope Benedict credited her with curing a person of cancer.
Related Internet Links
The BBC is not responsible for the content of external sites.