Highland Wildlife Park's ageing tiger Yuri put to sleep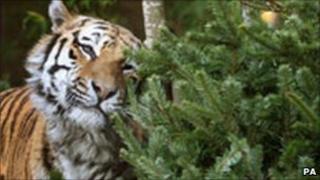 A rare male Amur tiger kept at the Highland Wildlife Park in Kincraig has died.
Seventeen-year-old Yuri succumbed to old age and illness and was put to sleep on Monday.
He arrived at the park with his long-time mate Sasha, from Edinburgh Zoo two years ago. The zoo replaced the pair with two young Sumatran tigers.
Yuri and Sasha went on to rear a litter of three cubs at the Highland Wildlife Park. They had previously had six cubs.