Female officer's call for more armed policewomen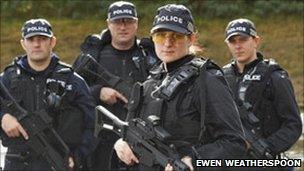 A female firearms officer hopes to encourage more policewomen to join her force's armed response team.
Pc Alison McLennan, 32, is one of three female authorised firearms officers (AFOs) at Northern Constabulary.
The Inverness-based officer said the role involved working under extreme pressure, but could also be highly rewarding.
Northern Constabulary said any impressions that armed response was for men only was wrong and outdated.
She also tells of the pressures in distinguishing realistic-looking fake guns from real weapons during incidents and working with search teams and negotiators.
The officer added: "I never feel like I am one of only three women specialists and it is never an issue.
"We are all just firearms officers working together to protect the public."
Related Internet Links
The BBC is not responsible for the content of external sites.