Ageing Fort George in the line of fire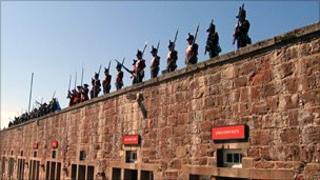 Cannon boomed and muskets banged startling young children and making them cry.
Smoke from the discharged weapons rolled through crowds of people within the formidable walls of Fort George.
Parents had just managed to quieten their sobbing youngsters when another volley of gunfire sent them howling again.
The display of period weaponry formed part of the biggest military-themed event Historic Scotland has ever hosted at its property near Inverness.
There were re-enactment groups dressed as Vikings, Romans, British government red coats and soldiers of World War I.
The climax was a fly-past by a World War II Spitfire, its pilot performing a series of twists and turns against the blue sky of an August afternoon.
For the thousands of people who attended, history was brought to life amid the surroundings of the 18th Century artillery fortification.
But Fort George is more than a museum.
It is still a working barracks, though like RAF Kinloss and Lossiemouth further along the Moray Firth coast, its future has been thrown into doubt by the UK government's planned defence cuts.
Built after the Battle of Culloden in 1746, Fort George was designed as a deterrent against further Jacobite uprisings.
Taking 20 years to complete, it became the Army's main garrison fortress in the Highlands.
It held two field battalions and staff officers that amounted to about 2,000 men, and it bristled with 80 heavy guns.
The fort never came under attack, but it did play its part in suppressing rebellion.
In 1792, there were the Ross-shire Sheep Riots when people stood up against the Highland Clearances.
One group protested against the clearing of human inhabitants from estate land - which was done to make way for large-scale sheep production - by driving 6,000 people from the north Highlands to Beauly, near Inverness.
Soldiers of the 42nd Regiment, better known as the Black Watch, were sent from Fort George to arrest them.
Yet the fortification was not just a place to be feared.
The local economy in the late 1700s was buoyed by its construction and required regular supplies of food and goods from tradesmen, merchants and shop keepers.
It continues to play that role today.
However, for the current residents, the Black Watch, the 3rd Battalion The Royal Regiment of Scotland (3 Scots), Fort George has also been a place of tears.
In September last year, mourners gathered at the small kirk within the fort's walls to pay tribute to Sgt Stuart "Gus" Millar after he was killed in Afghanistan. His wedding had been held in the same church.