'Trolley grans' dance for Inverness shoppers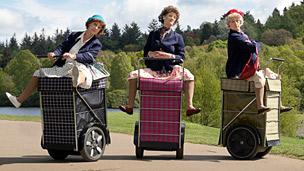 Inverness's first Autumn Street Theatre Festival has been launched.
Running until Saturday, acts will include a performance involving a shop window mannequin and shopping trolley formation dance team Granny Turismo.
The festival has been organised by the Inverness Business Improvement District (BID) and Eastgate Centre.
Mike Smith, Inverness BID manager, said it was hoped the event would attract more people and shoppers into the city centre.
Related Internet Links
The BBC is not responsible for the content of external sites.