Spending cuts 'could threaten' corncrake conservation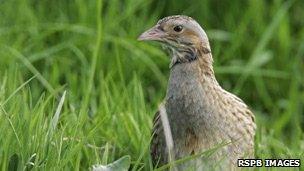 RSPB Scotland has urged the Scottish government not to cut the money it gives to farmers who manage their land in a way which protects rare birds.
Since the payments were introduced corncrake numbers have increased.
Recordings of male birds in Scotland have risen for the first time in three years to 1,193 - 66 more than were counted in 2009.
The payments are designed to encourage landowners and tenants to leave meadows to grow.
Tall grasses provide shelter from predators for young corncrake.
Intensive hay and silage production - which is discouraged through the payments - has been blamed for playing a part in the birds' decline in the UK since the early 20th Century.
Corncrake migrate to Scotland in late spring from sub-Saharan Africa.
A conservation programme was launched in 1993 followed by financial assistance to farmers and crofters from the Scottish government.
Dr Paul Walton, head of habitats and species at RSPB Scotland, said the government's Rural Priorities scheme has proved vital in assisting corncrake recovery.
He also praised the work of crofters in the Hebrides and Argyll, where most of the birds are found.
Dr Walton said: "The threat of spending cuts has raised concerns that those who farm with corncrakes in mind will be unable to access the right support.
"The story of the Scottish corncrake tells us that agri-environment measures really can make a difference.
"We urge the Scottish government to keep that in mind as it considers its financial future in the light of spending cuts and reform of the Common Agricultural Policy."
Related Internet Links
The BBC is not responsible for the content of external sites.