Skye wild swimmer Duncan MacInnes down to last loch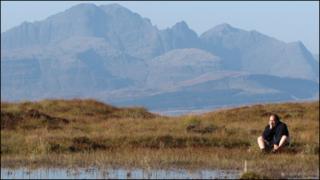 A community trust director has one last loch left to swim in his bid to enter more than 60 freshwater lochs and lochans in Sleat in the south of Skye.
Duncan MacInnes started his wild swimming in April to mark his 60th birthday and to raise money for Sleat Community Trust.
He said some of the bodies of water were just 50cm (19in) deep and muddy.
Mr MacInnes plans to tackle Loch Gauscavaig before the end of this month.
He almost gave up on the bid last month, but was encouraged to carry on by his wife Polly.
Mr MacInnes said: "Only four of the lochs are visible from the road but there are many, many other fantastic places that deserve a visit.
"There is a great deal of empty country, and I have swum with the hills echoing to the sound of rutting stags, and shared the water with diving birds, newts and ducks."
He added: "I have had to redefine 'swimming' on occasions.
"If the map shows it as blue and I can get into the water, then it is a 'swim'. Sometimes this has been in large clear beautiful lochs, but once or twice it has been just a splash in a foot of water and three feet of mud."