Lib Dem MP and MSP call for coastguard tug rethink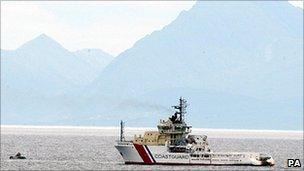 Two Liberal Democrat politicians have urged the UK government to change its decision to scrap four Maritime and Coastguard Agency (MCA) tugs.
Charles Kennedy, a former leader of the party, said the vessels could prove critical in an emergency.
Highland MSP John Farquhar Munro said he was furious at plans to scrap them in the government's spending review.
The ships based in Falmouth, Dover, the Northern Isles and Western Isles are to be taken out of service in 2011.
Their withdrawal would save £32m over four-and-a-half years.
The tugs - Anglian Prince, Anglian Princess, Anglian Sovereign and Anglian Monarch - are chartered by the MCA for use in pollution control and towing vessels that are in difficulty.
The government said it should be the responsibility of companies and their insurers for the salvage and clean up of stricken vessels.
Mr Kennedy, MP for Ross, Skye and Lochaber, said he was sympathetic to this argument, but believed the tugs should remain.
He said: "The loss of the coastguard tug from Stornoway - which, after all, was introduced as a recommendation of the inquiry into the Braer oil spill disaster which hit Shetland in 1993 - would represent a serious blow to maritime and environmental safeguards on the west coast of Scotland.
Mr Kennedy added: "I am far from convinced that adequate protection for our coastal communities and their economy can be relied upon from the private sector alone - especially when the speed of response is critical."
Mr Munro said he was furious over the decision to scrap the tugs.
He added: "The cost savings of £32m against the potential cost of an oil tanker accident is paltry and I believe short-sighted."
Anglian Prince was involved in the rescue of a Canadian submarine in 2004 after fire broke out onboard.
Former Royal Navy submarine HMCS Chicoutimi caught fire on its voyage from Faslane on the Clyde.
Anglian Sovereign protected the wreck of Cumbria-based scallop dredger Aquila after it overturned with the loss of three of its four crew off Ardnamurchan Point last year.
Related Internet Links
The BBC is not responsible for the content of external sites.