Scrap-threatened tug sent to submarine HMS Astute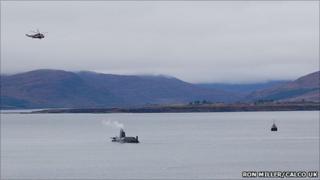 One of four emergency tugs to be withdrawn under UK government plans has been sent to the scene of the grounded submarine HMS Astute.
The Maritime and Coastguard Agency-chartered Anglian Prince was sent from Stornoway on Lewis and tasked to stand by on the scene.
The tugs are to be taken out of service in 2011 to save £32m over four-and-a-half years.
Two Highlands Lib Dem politicians have attacked the withdrawal decision.
Charles Kennedy, a former leader of the party, said on Thursday the vessels could prove critical in an emergency.
Highland MSP John Farquhar Munro said he was furious at plans to scrap them in the government's Spending Review.
John Laing, transport chairman at Highland Council, said it was "unthinkable" to be withdrawing the tugs.
He said: "How ironic it is that only two days after the government announced the end of funding for emergency tugs in the Highlands and Islands that the Stornoway tug is required to rescue the Royal Navy's newest and largest attack submarine.
"We have fought long and hard to have a tug service protect our shores and this incident brings into sharp focus the need for the tug at Stornoway.
"This is exactly the kind of incident that the tug is required for."
The tugs are based in Falmouth, Dover, the Northern Isles and Western Isles.
Anglian Prince, Anglian Princess, Anglian Sovereign and Anglian Monarch - are chartered by the MCA for use in pollution control and towing vessels that are in difficulty.
The government said it should be the responsibility of companies and their insurers for the salvage and clean-up of stricken vessels.