Sub shows too much to be stealthy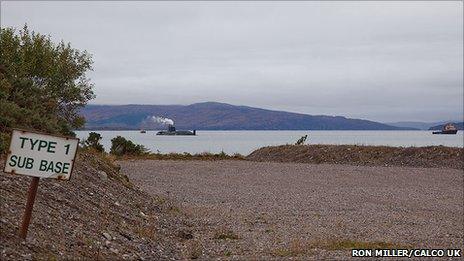 The UK's most technologically advanced submarine, HMS Astute, is designed to work at stealth - which means avoiding detection and moving with extreme care and attention.
This was not much in evidence as a falling tide throughout the morning revealed more and more of the Royal Navy's newest and largest attack sub, which was grounded off the isle of Skye.
Former nuclear submarine engineer Martin Douglas said the Astute's skipper and crew were trained and equipped to deal with all kinds of emergencies.
However, he added that it was "very unusual" to see so much of a submarine out of the water in full public view.
He said: "Propulsion and shape are very much a closely-guarded secret because it is incredibly effective and of a unique design.
"This will be a very embarrassing situation."
Islander Ron Miller was alerted to the incident when he spotted vessels gathered around the submarine on the Lochalsh.com website's webcam.
He got a better view of the sub when he went out for a run on a hill above the scene.
Astute has grounded in an area outside a safe sea lane marked by buoys and on Admiralty charts.
Skye councillor John Laing said: "The channel is clearly marked and anyone, even a landlubber, would know the markings of the channel, the red and green buoys.
"So the question must be asked what on earth were they doing there with a submarine?
"It is hugely alarming. We have highly-trained submariners, navigators and they run aground. They certainly shouldn't have been where they were."
Meanwhile, one of the vessels that has gone to the aid of Astute is the emergency tug Anglian Prince.
Chartered by the Maritime and Coastguard Agency, the tug is one of four to be withdrawn under the UK government's spending review which was announced on Wednesday.
With the tide rising again another tug has started pushing against the submarine in an effort to gently move it.
But one sailor, who asked not to be named, told the BBC Scotland News website: "I am just looking at the tide tables. this weekend is springs tides - the biggest tides of the lunar cycle.
"If they do not get her free easily tonight, or this weekend, then the tides are going to put them up a creek without a paddle if you excuse the pun."
Related Internet Links
The BBC is not responsible for the content of external sites.