Grounded nuclear sub HMS Astute returning to Faslane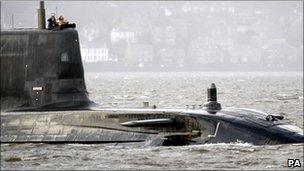 A nuclear-powered submarine which was grounded off the isle of Skye is now returning to its base at Faslane, the Ministry of Defence has confirmed.
HMS Astute, the Royal Navy's newest sub, was towed free by a tug boat on Friday evening after it was stuck on a shingle bank for 10 hours.
The £1bn vessel was moored in deep water on Saturday while its hull and rudder were checked for damage.
The MoD said it was heading back to the Clyde above water, under its own power.
She will be escorted by a tug and the Royal Navy minehunter HMS Shoreham.
A spokesman said it was expected to arrive at Faslane on Monday, when it will be checked over again and any repairs carried out.
He said: "This was a non-nuclear incident and there was no nuclear risk.
"We can confirm that no part of Astute's nuclear propulsion system was damaged or was in danger of being damaged. The reactor is completely safe.
"No personnel were injured in the incident or were in danger of injury throughout the process. There was no environmental impact.
"A full service inquiry will be held as soon as is practicable after she arrives back in Faslane."
The sub was on sea trials when its rudder became stuck in shallow water close to the Skye Bridge at about 0800 BST on Friday.
It is believed a crew transfer from the shore to the submarine was being undertaken at the time.
Investigations are continuing into how the vessel found itself in shallow areas of water which are clearly marked.
The MoD said all issues that may be relevant will be looked at, including whether out-of-date Naval charts were in use and whether any crew were negligent.
The sub's captain, Commander Andy Coles, from Devon, could face a court martial over the incident.
The vessel, was built by BAE Systems in Barrow in Furness, Cumbria, was not expected to enter service until next year.
It can carry a mix of up to 38 Spearfish heavyweight torpedoes and Tomahawk Land Attack cruise missiles.
Related Internet Links
The BBC is not responsible for the content of external sites.