Police apologise over Donna Forrest murder weapon error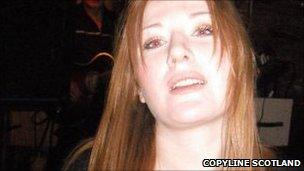 A police force has apologised to the family of a woman murdered in her Easter Ross home after they failed to spot vital evidence in the case.
The kitchen knife used to kill Donna Forrest, 30, was missed by Northern Constabulary during searches of the murder scene in Balintore, near Tain.
It was only found by the victim's family weeks later behind a microwave.
Philip Fraser, 50, was jailed for 20 years in July for stabbing Ms Forrest and attacking her with a claw hammer.
He murdered Ms Forrest while free on licence after killing his ex-wife Katherine Scafe in 1997.
The pair had a brief relationship, although mother-of-one Ms Forrest broke it off and began seeing another man.
She had told friends Fraser was pestering her and had gone to the local police, as well as meeting with support workers from Women's Aid.
In a statement, Northern Constabulary said an internal investigation was ongoing and steps had been taken to address "specific officer skills".
"The force recognises that this particular factor fell short of its otherwise high investigative standard and has rightly apologised to the family of the victim, Donna Forrest, in relation to this issue," it said.
Related Internet Links
The BBC is not responsible for the content of external sites.