Highland Council stocking up on road salt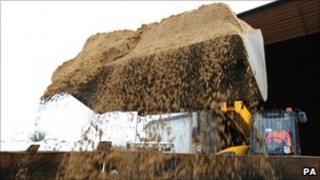 Highland Council aims to have 52,000 tonnes of gritting salt stockpiled by the end of November for treating icy roads this winter.
the council said it already had 42,000 tonnes in storage across 40 depots.
During last winter - one of the worst on record - Highland Council used a total of 85,000 tonnes of road salt.
A new helpline for the public to contact council staff about problems with conditions on roads and street lighting has also been launched.
Staff can be reached on 01349 886601 from 0800 GMT-1800 GMT from Monday to Friday and 0900 GMT to midday on Saturdays.
The emergency out of hours number is 0845 769 7284.
Transport director Neil Gillies said people should take their own precautions against bad weather.
He said: "At this time of year, we urge motorists to be aware of the dangers of sudden changes in weather and the hidden dangers of black ice and to prepare themselves and their vehicles before they travel.
"From now until the end of March, the council monitors roads and weather conditions for the need to treat ice and snow conditions on local roads.
"It is not possible to treat every road at the same time, so priority routes have been established."