Jail for 'horrific assault' using bottle and dog chain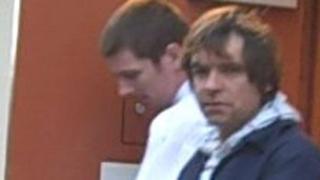 A 40-year-old man has been jailed for five years for his part in a "horrific assault" on another man.
David Webb, from Inverness, was found guilty by a jury for his part in the attack on the 39-year-old man, who cannot be named, in February.
Webb denied taking part in the attack in Inverness, which involved a bottle, a knife, a baseball bat and dog chain.
He lodged special defences of alibi and incrimination. Three other men will appear in court at a later date.
Following a six-day trial, a jury found Webb guilty by majority of assaulting the man along, with others, on 10 and 11 February.
The court heard that the victim had been accused by his attackers of abusing children.
His ordeal began after he had gone to a house to collect a bag he had left there a few weeks earlier.
After a few drinks, the home's owner left and later returned with Webb and two others.
The 39-year-old told the court: "Then Webb started saying stuff about me to the others. He told them that I interfered with children.
"I have no idea why he said it. I think it was to provoke some kind of violence."
Passed out
The jury heard that the four men then began punching and kicking the victim.
He said Webb and another man had a competition to see who could hit him the hardest.
The attack lasted for several hours before he passed out. When he woke up the following morning, the attacks resumed.
The court heard the 39-year-old was battered on the head and body, struck with a baseball bat and choked with a dog chain.
He was also subjected to a sexual assault using a bottle, the court heard.
When he was eventually told to leave, he went to a nearby house and the owner phoned an ambulance.
During cross-examination, Webb's defence counsel, Sean Templeton, said Webb did not deny that the events had taken place, but claimed the attack happened "at the hands of the other three".
Mr Templeton said his client was unemployed and suffered a serious alcohol problem, which led to him splitting from his previous partner.
Sheriff Ian Abercrombie told Webb: "You have been convicted of a horrific assault. I have no hesitation in sentencing you to imprisonment.
"The offence does contain, in my view, a sexual element and I place you on the sex offenders register indefinitely."