Free Church being sued over Peruvian boy's death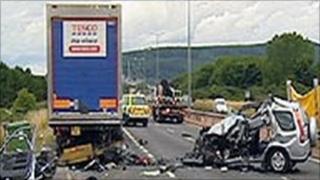 The Free Church of Scotland is being sued in Peru by the parents of one of two boys who died on a trip to Scotland which the church helped to organise.
Driver Donald MacLeod, 82, was killed along with the Peruvian teenagers when their car crashed into a parked lorry near Inverness in July 2006.
The parents of Gianmarco Peschiera, 14, have sought damages on the grounds of negligence.
Carlos Gonzales, 15, was the other teenager killed in the crash.
The legal action has been raised in the civil courts in Peru against the Free Church of Scotland, the Colegio San Andres in Lima and the school's former headmaster Donald Macaulay.
The case is expected to start on 1 December.
A statement on the Free Church website said: "The case deals with the events surrounding the tragic deaths of two pupils of Colegio San Andres, Gianmarco Peschiera and Carlos Gonzales, on a school trip to Scotland on 31 July 2006.
"Over these years, many in Scotland have been praying for the families affected, as well as the wider Colegio San Andres family.
"The school now asks the Church in Scotland for earnest and sustained prayer."
Mr MacLeod, a former rector at Fortrose Academy, in the Black Isle, had been driving the boys to North Kessock where they were to meet up with the rest of their group for a day trip to Stornoway in the Western Isles.
The crash happened close to the Kessock Bridge roundabout.