Communities 'key' to success of wave and tidal power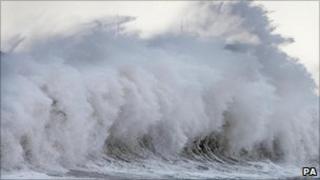 Coastal communities will play a major role in the generation of hundreds of megawatts of power at sea, a leading figure in renewables has said.
Neil Kermode said wave and tidal devices in the Pentland Firth and off Orkney would have to be serviced by nearby ports and workers.
Several seabed sites have been leased to companies to test marine devices.
Mr Kermode is managing director at the European Marine Energy Centre (Emec) on Orkney.
He has been in Inverness for a Scottish Renewables conference on marine renewables.
The two-day event is the largest of its kind to be held in Scotland.
Mr Kermode said it was right that communities in the Highlands and Islands should benefit from wind, wave and tidal energy being exploited off their shores.
He also said they would be the first to receive electricity from commercial-scale schemes.
'Natural process'
Mr Kermode said: "When you look at Aberdeen, it is not the size it is because of its historic link to herring fishing but because of oil and gas.
"The same thing could happen for ports close to where the wave and tidal devices will go, though we're not kidding ourselves that it will be on the same scale as Aberdeen."
The Emec boss said there would be opportunities for individuals who were determined and given encouragement.
He said: "You can bring in machines made in Korea but you wouldn't send one all the way back there to change a fuse."
"Orkney, for example, has a population of about 20,000 people and there is somewhere between 150 to 200 employed in marine renewables. That's not bad."
Mr Kermode said it was vital the momentum achieved in developing the technology in Scotland did not stall, or jobs and design and manufacture of devices would be lost to other countries.
Massive reform
However, he said there was a "natural process" to be followed before the machines needed could move from prototypes to commercial-scale.
He said: "It is not like the dot com businesses that went from an idea to making millions of pounds in a very short time.
"This is about hard engineering that takes time to build up and we are dealing with physics, chemistry and metallurgy."
Mr Kermode added: "But this is not about putting the first Scot on the Moon, what we are trying to do is within our reach."
Scottish Renewables, meanwhile, has called for massive reform of Scotland's electricity grid.
It said transmission charges at current levels were too high and discouraged companies from pushing ahead with plans for renewable power projects in the Highlands and Islands.
The energy regulator, Ofgem, announced a wide-ranging review into the costs of supplying electricity to the National Grid in September.