Changing face of Highland winters
By Steven McKenzie
BBC Scotland Highlands and Islands reporter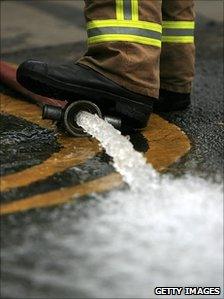 In the last days of August this year snow fell on some of the highest points in the Cairngorms.
The Mountaineering Council of Scotland reported the falls in Choire Mhoir, Coire Cas, Ciste Mhearad and the Garbh Coire.
Patches of snow from last winter had survived the summer in the same locations.
The fresh snow did not lie for long before melting, but it may have served as a harbinger of what was to follow.
There were heavy snowfalls on the mountains in October and by the end of November much of the Highlands - and most of Scotland - was feeling the full force of blizzards and plunging temperatures.
It marked the latest twist in a tale of contrasting Highlands winters over the last five years.
Five years ago floods posed a greater risk to communities than snow and ice.
Ross-shire, Sutherland, Badenoch and Strathspey and Inverness were among the hardest hit by severe flooding in October 2006.
Thirty schools were closed, sections of the A9 were shut and the railway line at Helmsdale was washed away.
Northern Constabulary and Highland Council declared the situation as a major incident.
Winds reaching speeds of 80mph saw police having to deal with 40 incidents caused by storm-damaged trees.
In December 2006, Kingussie was badly affected and a stretch of the Aviemore-Perth railway line was closed because of flooding.
As part of its response, Highland Council transferred £350,000 from winter maintenance to improving water courses in the summer of 2007.
This financial year, the authority will spend £700,000 on water course maintenance.
However, Highland Council said dealing with ice and heavy snow remained a high priority.
It has allocated £4.8m for winter maintenance this year and by the end of November had stockpiled 52,000 tonnes of gritting salt.
The winter of 2006-07 was also a bad one for Scottish ski resorts.
By March 2007, centres said they had suffered one of their worst seasons of recent years.
A lack of snow and high winds were blamed for keeping skiers and snowboarders off the slopes.
But skiing conditions improved significantly in 2008.
In January of that year, the ski centres said they were enjoying the "best snow for years".
All five of the country's snow sports areas opened early - an achievement which operators said was highly unusual.
Good skiing conditions returned in the final weeks of 2009 and the start of 2010 when the Highlands experienced some of the hardest winter conditions in decades.
Avalanches in the mountains were blamed for the deaths of climbers and blocked the West Highland railway line between Tyndrum and Bridge of Orchy in Argyll for almost two weeks over late February into early March this year.
Mark Diggins, of the Sportscotland Avalanche Information Service (SAIS), later said the season had more and larger slides than previously seen.
Winter has returned with heavy snowfalls and temperatures dive bombing to -20C.
Most of the Highlands has been blanketed in snow for about two weeks.
Under its own thick covering of the white stuff is a construction site of a phase of the multi-million pound South West Inverness Flood Relief Scheme.
How the rest of this winter pans out remains to be seen, but its positive and negative effects are already stark.
More than 10,000 skiers flocked to four of Scotland's ski centres at the weekend. Nevis Range had its earliest start to the season for 13 years.
But every silver lining has a dark cloud and the weather has closed schools, shut roads, cancelled rail travel and burst pipes.
Related Internet Links
The BBC is not responsible for the content of external sites.