Leaks suspected as 20 million litres of water lost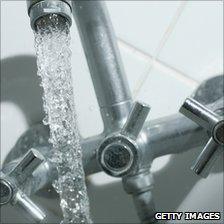 Burst pipes have been suspected after communities in parts of the Highlands have been found using 20 million more litres a day more than usual.
Scottish Water said there could be a large number of leaks affecting properties in Dingwall, Drumndrochit and the Black Isle.
It said snow cover could be making it harder for households to spot problems.
Unoccupied holiday homes and village halls have also been identified as places where bursts may have occurred.
Farmers have also been asked to check their outbuildings.
Scottish Water's operations manager for the Highlands, Simon Harrison, said if the problem continued the company could have problems maintaining supplies to the communities.
He said: "While visible leaks on public water mains are being fixed, others will be hidden by the snowy ground conditions.
"It is feared unoccupied holiday homes, village halls and other outbuildings could have internal bursts in their plumbing."
Mr Harrison added: "Our concern is that if the increased demand continues we could struggle to maintain supplies to all our customers."
Related Internet Links
The BBC is not responsible for the content of external sites.