Bad weather disrupts deliveries to Newtonmore store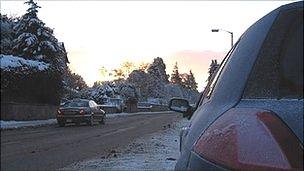 Bad weather has badly affected deliveries of fresh and frozen produce to a food shop in the Highlands.
Customers in Newtonmore, near Aviemore, said no new supplies had arrived at the village Co-operative for the past seven days.
The Co-operative confirmed that bad weather had prevented stocks reaching Newtonmore from its depots in central Scotland and Fife.
Snow and ice has also closed schools and a road in the Highlands and isles.
A Co-operative Group spokesman apologised to customers in Newtonmore for any inconvenience.
He said: "The ongoing extreme weather conditions have caused problems ensuring regular deliveries to some stores, and unfortunately The Co-operative Food store at Newtonmore has been particularly badly affected.
"The store is served by our distribution depots at Harthill and Cumbernauld, both in areas particularly hard hit by the weather, as well as by Pitreavie in Fife.
"Staff in our distribution network, and in our stores, are working extremely hard in very difficult conditions to maintain a service to our customers, although there is inevitably some disruption."
The wintry weather has increased demand for store-to-front door deliveries from supermarkets in the region.
On Monday, Tesco customers in Inverness hoping to order deliveries online were told the next available date was Wednesday next week.
An e-mail to customers apologised that it would not always be possible for delivery crews to reach the most rural and remote parts.
Tesco said it was making weather forecast checks twice a day.
During some of the worst weather in the north east it brought forward deliveries of stocks to stores by three hours.
Asda, whose nearest store to the Highlands is in Elgin but which also makes online deliveries to the region, said snow has had an impact on shoppers' behaviour.
A spokeswoman said customers have not been panic-buying or stockpiling food.
She added that Asda has seen increased sales in hot water bottles, salt and thermal underwear.
More than 50 schools in the Highlands and Islands have been closed because of bad weather.
Most of the schools have shut to all staff and pupils, while others have been closed to pupils who have to travel by road.
Police said the B9007 Carrbridge to Ferness was closed.
The A836 Altnaharra to Tongue and parts of the A835 between Ullapool and and Ledmore and Braemore and Ullapool were shut earlier, but later reopened.
Northern Constabulary said the A832 south of Gairloch and B9176 Skiach to Ardchronie were also affected by snow.
Related Internet Links
The BBC is not responsible for the content of external sites.