Warning over falling icicle danger in the Highlands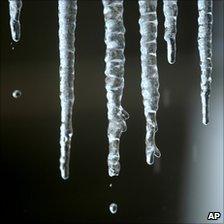 The public has been warned about the danger of icicles falling from the eaves of buildings onto streets below.
Highland Council said it was the responsibility of property owners to deal with the risk.
Environmental services chairman John Laing said the threat of falling ice followed forecasts of a thaw over the next few days.
The local authority has also ordered fresh deliveries of road salt but said existing stocks were not running low.
Mr Laing said temperatures were expected to rise significantly in the coming days.
He said: "Some substantial icicles have developed under the eaves of some buildings and where these are hanging above the road or pavement they may pose a threat to the public.
"With a thaw likely to develop in the next day or two some of these icicles are liable to come crashing down.
"It is the responsibility of the building owner to do what they can to mitigate the risk to the public."
On Wednesday, Highland Council had 17,000 tonnes of salt and was moving it to any of its 41 depots where the need for the treatment was greatest.
The local authority has ordered a further 30,000 tonnes from its supplier in Carrickfergus, Northern Ireland.
Mr Laing said: "Salt works most effectively in a temperature of plus or -2C and its effectiveness becomes progressively less efficient towards -7C.
"We are therefore using a mix of salt and sand as treatment on our roads in severe weather conditions."
One road remains shut in the Highlands - the B9007 Carrbridge to Ferness.
Related Internet Links
The BBC is not responsible for the content of external sites.