Highland farm habitat for 'at risk' corn bunting birds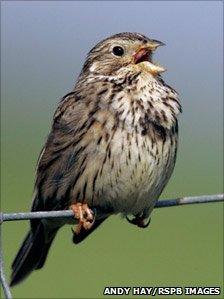 Farmland near Inverness Airport has provided an at risk bird with its last stronghold in the Highlands, according to RSPB Scotland.
The charity said that thanks to farmers backed with Scottish government funding, corn bunting have access to plentiful supplies of food.
Crops are harvested in a way that leaves grain available for the birds and seed-rich weeds are left untouched.
Corn bunting are an RSPB red list species, marking them as threatened.
Yellowhammer, tree sparrow and skylark have also been attracted to the fields.
Conservation Officer Stuart Benn said the RSPB had worked closely with farmers on the project.
He said: "Corn buntings were once a very common bird in the Scottish countryside but in recent decades their population has crashed as agricultural techniques have changed.
"It's a huge shame as they are very engaging birds when you get to know them with an utterly distinctive song during the breeding season - often described as sounding like jangling keys."
Mr Benn added: "It's great to know that this local population is hanging on and that the measures taken are also benefiting other farmland birds."
Related Internet Links
The BBC is not responsible for the content of external sites.