Learner driver in Nairn 'over drink limit'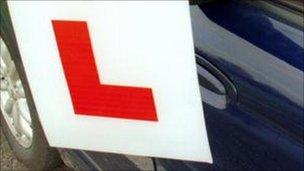 A learner driver and his female co-driver failed a breath test and spent a night in police cells during the first week of a drink-drive crackdown.
Police said the 18-year-old and his passenger were among 11 people accused of being over the drink-drive limit.
Seven drink-drivers were detected in the first week of Northern Constabulary's 2009 festive campaign.
The force said the higher number this year was due to the increased presence of officers.
Led by the Association of Chief Police Officers Scotland (Acpos), the campaign is held over four weeks.
Northern said those caught so far included a 31-year-old woman from the Inverness area, who faces the possibility of losing her vehicle under the Vehicle Forfeiture Scheme after being caught for a second time.
The 18-year-old, a provisional licence holder, was caught in the Nairn area.
Police said that of those caught eight were male and three were female. The accused were aged between 18 and 56.
Head of road policing Unit, Insp John Smith, said four of the 11 drivers were caught after officers followed up information from the public.
He added: "Our increased presence and enhanced pro-activity on the roads has resulted in a higher number of drink drivers detected during week one of the campaign compared to the same period last year.
"The fact that seven of those caught spent time in the cells highlights the serious nature of this offence."
Insp Smith warned that anyone caught on Christmas Eve could spend a weekend in the cells prior to a court appearance, resulting in them missing Christmas Day.