Solutions to overtaking lane problem being considered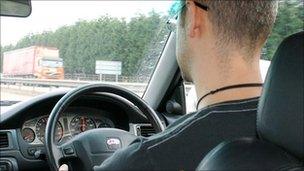 Solutions to a safety problem with a new overtaking lane on the A9 in the Highlands have been submitted to Transport Scotland for consideration.
The northbound overtaking lane at Moy, south of Inverness, stretches to less than a mile and cost £2.8m to build.
It has been closed since 19 November following concerns about traffic crossing to a junction near the end of the lane.
Transport Scotland said the options were being "urgently considered".
The lane at Moy ends just before a junction at Lynebeg which allows southbound traffic to turn right across the carriageway.
Transport Scotland said a routine inspection flagged up concerns over the behaviour of some drivers on the new stretch of road.
Its operating company Scotland TranServ was asked to find solutions to the problem.
A Transport Scotland spokesman said: "The options are currently being urgently considered.
"In the interest of public safety the temporary traffic management system will remain in place until any improvements can be agreed and installed."
He added: "It should be noted that it is the northbound overtaking lane that is closed and there is still a lane in each direction open to traffic."
Related Internet Links
The BBC is not responsible for the content of external sites.