Efforts to understand effects of volcanic ash and snow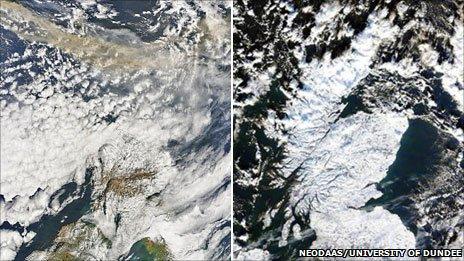 Disruption to travel caused by severe winter weather and volcanic ash have had effects on society that remain to be understood, according to experts.
Ash drifting from an eruption on Iceland grounded flights in the UK for periods from 15 April and 18 May this year.
Snow and ice disrupted air, road and rail travel in January and February and again in November and December.
Scotland has been among parts of the UK worst affected by wintry conditions and volcanic ash.
She said survey forms filled in so far suggested older people's travel plans had been less badly affected than young families'.
Dr Guiver's study is part of a trilogy, with her previous surveys held following serious flooding in the north of England in 2009 and this year's volcanic ash cloud.
The lecturer plans to write a paper comparing all three events.
She said: "On the flooding I looked at how the loss of road bridges affected the journeys of people in Workington.
"A railway bridge was left standing and temporary station was built in six days and free trains laid on, while a footbridge was also built by the Army."
Part of the ash cloud investigation looked at how people got information on its effects on travel. Dr Guiver's survey results suggested that friends, family and websites were key sources.
Bryan Matthews, senior research fellow at the Institute for Transport Studies, at the University of Leeds, said the ash cloud continued to fascinate academics.
He said: "It was the first time we have seen the aviation industry react the way it did.
"The ash cloud was a triple whammy for aviation - there was a downturn in activity through the cancellations of flights, it had a deterrent effect as it put people off travelling and thirdly there is the compensation bill from passengers which is ongoing.
"For academics it was an interesting time and showed us what a world without - or with a drastically cut back - aviation industry would look like."
Mr Matthews said one area still to be fully understood was the effects of people switching from air travel to long journeys by car.
He said: "After the Hatfield rail crash draconian speed limits were put on the railway network and this led to a drop in rail patronage at the time.
"People switched to cars - a more dangerous form of travel.
"Stopping all flights resulted in some people driving long distances. Statistically, were their more accidents as a consequence of closing the air space?
"I don't know of a study yet that properly balances those affects."
Other studies which are under way include a £430,000 research project into the effects of Icelandic volcanic activity on Scotland, led by Dr John Stevenson from the University of Edinburgh.
It will investigate Iceland's volcanoes in an effort to improve forecasts of the type and direction of ash clouds after eruptions.
Research published by Met Office scientists this week suggested that the amount of lightning produced near a volcano each hour provides a method of rapidly alerting forecasters to potential increases in eruptive activity.
Meanwhile, the University of Dundee's satellite receiving station, which captured images the ash cloud, has been releasing more images of how heavy snow has affected the UK.
Related Internet Links
The BBC is not responsible for the content of external sites.