Upgrade to A9 at Crubenmore draws criticism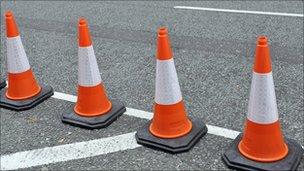 A riding centre boss has raised concerns about a stretch of new dual carriageway to be constructed on the A9 at Crubenmore in the Highlands.
Ruaridh Ormiston welcomed the safety improvements planned, but said it would cut off access to an old military road used by horse riders and walkers.
Transport Scotland has ruled out building a bridge or an underpass.
A spokeswoman said the plans for the Crubenmore scheme had developed over the past four years.
It is the second project on the A9 to draw criticism in just over a month.
A new overtaking lane at Moy has been closed since 19 November following concerns about traffic crossing to a junction near the end of the lane.
The northbound lane stretches to less than a mile and cost £2.8m to build.
Transport Scotland said solutions to the problem were being "urgently considered".
Mr Ormiston, who runs Newtonmore Riding Centre, said the latest stretch of dual carriageway planned would stop horse riders, cyclists and pedestrians from crossing the road, which was possible at the moment.
He said the new section would also block and prevent the further use of the 18th Century Gen Wade's Military Road linking Ruthven Barracks at Kingussie, near Newtonmore, to Fort Augustus.
Mr Ormiston said the public had not been properly consulted on the project.
Transport Scotland said it had undertaken extensive consultation with a wide range of stakeholders and over a number of years, with safety as "a paramount design consideration".
The spokeswoman added: "Following contact from Mr Ormiston, we have considered his application, however can confirm that no bridge or underpass will be provided as part of the Crubenmore scheme.
"This decision was reached following review of the consultation which, due to the location of the scheme, included the relevant local authority, police, affected landowners, the national park, Scottish Natural Heritage and key interest groups including the British Horse Society and cycling groups."
A contract for the construction of the scheme was awarded in September this year.
Related Internet Links
The BBC is not responsible for the content of external sites.