Effort to protect road salt stocks in Highlands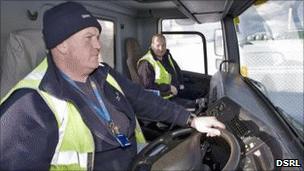 Highland Council has said efforts will be made to preserve its stocks of salt for treating roads over the holidays.
It said the past few weeks had seen more than 400,000 tonnes spread on routes it has responsibility for.
The local authority said salt mixed with grit would be used on priority roads.
The mixture will be spread on localised sections of other routes where it was found to be affected by ice, Highland Council added.
Richard Guest, head of roads and community works, said "prudent precautions" were being taken to safeguard supplies.
He said: "The extremely low temperatures have seriously reduced the effectiveness of salt in causing the snow and ice to melt.
"The rate at which we can obtain replacement supplies of salt is not keeping pace with the rate it is being used up.
"We need to make sure we use the supplies of salt that we hold most effectively, to preserve stocks and make sure that roads are clear and safe."
Roads in Caithness and Sutherland have been among the worst affected in the Highlands.
Snow plough crews based at the Dounreay nuclear power plant have been keeping a 10-mile (about 16km) stretch of the A836 between Reay and Thurso open.
Dounreay Site Restoration Limited said the teams had used more than 500 tonnes of salt since the end of November - three times their normal monthly amount in winter.
Highland Council also said heating oil supplies could be under pressure over the holiday period.
It said distribution companies would be prioritising vulnerable people where this was possible.
The local authority urged householders not to make demands on the companies if they presently had an adequate supply of fuel.
Supplies of domestic heating oil arrived by boat to Aberdeen and Inverness on Monday.
The Scottish government said the Milford Fisher deliveries were "vital".
The kerosene, amounting to a total of 1.8 million litres, will be distributed to homes in Aberdeenshire and the Highlands.
Distributor Highland Fuels said demand for heating oil had "gone through the roof".
Related Internet Links
The BBC is not responsible for the content of external sites.