Red kites hit by illegal poisons and bad weather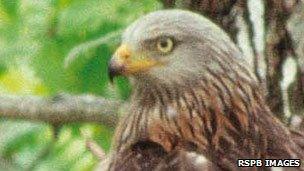 Illegal poisons have hindered the growth in Scotland's red kite population, according to RSPB Scotland and Scottish Natural Heritage (SNH).
In 2010, kites were poisoned in the Highlands, Tayside and Dumfries and Galloway.
Young birds were also found dead in nests after eating legal pest controls.
SNH and the RSPB said numbers of the raptors were increasing slowly but Scotland was trailing behind England in kite population growth.
During this year's breeding season fieldworkers located 166 breeding pairs, 17 more than in 2009.
A minimum of 291 young also fledged over that time, a rise of 57 on the previous year.
Since the species was reintroduced in 1989, RSPB Scotland said numbers of breeding pairs were thought to be at their highest for at least two centuries.
However, deaths caused by illegal and legal poisons have raised concerns.
RSPB Scotland said six birds - three in the Highlands, two in Tayside and one in Dumfries and Galloway - were killed illegally.
Eleven young birds were also recorded dead in nests in the Black Isle, near Inverness.
These birds were confirmed to have died as a result of ingesting prey killed by legal pest controls, RSPB Scotland said.
Severe winter weather has also affected the breeding season.
December saw a number of kites head west to the Inner Hebrides from eastern Scotland in a bid to escape heavy snow and freezing temperatures.
Duncan Orr-Ewing, of RSPB Scotland, said: "The red kite's fortunes in Scotland are now better than they have been for many years, however, there are still challenges to overcome if this bird is again going to be as widespread as was once the case.
"The main factor hampering full population recovery remains the indiscriminate and illegal use of poison baits in the countryside, with adherence to best practice standards for rodenticide use a secondary issue."
Related Internet Links
The BBC is not responsible for the content of external sites.