Caley Thistle shareholder Sutherland may transfer stake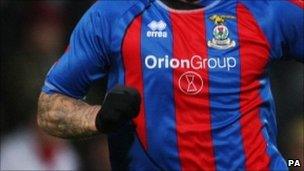 Inverness Caledonian Thistle's biggest shareholder has told BBC Scotland that he would be prepared to dispose of his stake in the SPL club.
Businessman David Sutherland has a 25% share holding worth £500,000 which also comes with voting powers on the board.
BBC Scotland understands that there has been interest in the shares.
Mr Sutherland said any transfer would have to come with a commitment that the new holder invested in the football side of the operation.
The Tulloch construction company chairman's involvement in Caley Thistle includes the building of its stadium's north and south stands.
Mr Sutherland also helped to remove a debt of £2m in the club's accounts.
He told Sportsound on BBC Radio Scotland that he was open to transferring his stake to somebody who would take the club "to the next stage".
He said: "What a fantastic position to be in - debt free and number four in the SPL and going well, with a fantastic management team, a fantastic team and a great board.
"That is really signalling that there comes a time in life, when you are an old codger, the last thing you want to be doing is sitting on somebody's back sniping as a shareholder and using your shares as a cover.
"The shares are worth £500,000, but the investment Tulloch have in the whole Caledonian Thistle story is £5m.
"So by looking at disposing of some shares does not signal we are moving away from being supporters of Caledonian Thistle.
"I remain committed to the club and we have got the best board in position we have ever had."
Mr Sutherland insisted he was not planning to sell the shares.
"From time to time, there are always people out there and, from time to time, football clubs suffer from leaks, innuendo and speculation," he said.
"I was not going to sell my shares, I was going to give them."
He said he had ruled out giving them to the supporters' body as he was hoping to attract someone with significant financial resources who would invest in the club.
He said any transfer of shares have to be the "right deal" and would involve "a very intensive process conducted by the board".
Related Internet Links
The BBC is not responsible for the content of external sites.