Campaigners 'mystified' by numbers of drink-drivers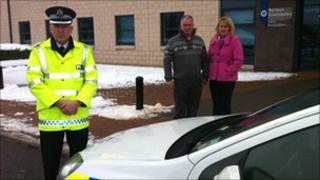 A couple campaigning against drink and drug-driving have said the numbers of people choosing to do so have left them "mystified and disappointed".
Graham and Diane Matheson, from Inverness, lost their son Callum in March last year in a crash in which the driver had been drinking.
Police said that 35 drink-drivers and one drug-driver were arrested during a four-week long festive crackdown.
Twenty-nine people were arrested over the same period in 2009-10.
Northern Constabulary said increased patrols and calls from the public led to the rise in detections.
Mrs Matheson said she was pleased the police had stopped a large number of drink-drivers.
She added: "However, it totally mystifies us that there are still drivers out there willing to take a risk without a thought for the consequences for themselves, their families and other roads users.
"How many other people, like Callum, have to die before people realise that drink-driving wrecks lives?
"Cars are deadly weapons if they are driven by people who are under the influence and surely no-one could live with themselves if they killed someone as a result of choosing to drink and drive."
The Mathesons run their own campaign called Deadly Mates.
Insp John Smith, head of Northern Constabulary's road policing unit, said the force was disappointed motorists still chose to risk drinking and driving.