Sunday ferry sailings 'essential' says former opponent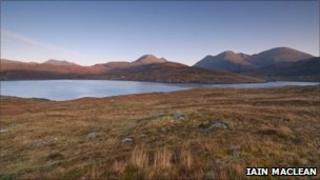 An islander who previously fought plans to introduce Sunday ferry sailings for Harris has said he would not stand in the way of a new plan to do so.
John Murdo Morrison told Caledonian MacBrayne to "go and burn their timetables" during campaigns against the Sabbath sailings in 1989 and 1990s.
The ferry operator has started consulting people on Harris on a fresh proposal for a Sunday service.
Mr Morrison said, for economic reasons, it would benefit the island.
At the moment, Tarbert, on Harris, does not have a service on the Sabbath, although a boat goes empty from the island to North Uist to provide a Sunday service to Skye from Lochmaddy.
CalMac said it was aware that local opinions on a Sunday service were divided.
It added that no decision would be taken until the consultation ended.
Mr Morrison ran the Harris Hotel before retiring. His family continue to run the business.
He told BBC Scotland he remained personally opposed to Sunday sailings, but would not stand in their way as he had done previously provided it did not lead to any changes to Saturday sailings.
Mr Morrison said: "When this was first mooted in 1989 there was vehement opposition.
"I was prepared to lead the fight against it because it was being thrust upon us without any consultation either with the people, or the council."
'Traumatic effect'
Mr Morrison was involved in a second campaign in the early 1990s and told CalMac bosses to burn their Sunday timetables.
He said: "Times have changed, sadly, and there is a strong feeling as far as I can gather that a Sunday ferry service is essential.
"We have got to think about the economies of Harris."
He added: "We are very much dependent on tourism and any change or alteration to the existing Saturday timetable would have a traumatic effect on tourism."
The first scheduled Sunday ferry sailing from the isle of Lewis, which is connected to Harris, began in June 2009.
There had been strong opposition on the island, where the Sabbath day has traditionally been strictly observed.
CalMac said religion or beliefs were not valid reasons under European law to refuse to run the ferry.