Scottish hills offer an 'escape' from money worries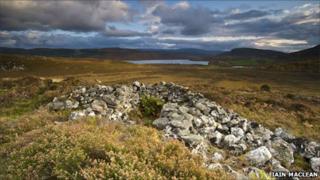 Access to Scotland's hills should be an election issue because they offer "an escape from financial concerns", a mountaineering body has said.
The Mountaineering Council of Scotland (MCofS) has warned against any cuts to public funding that ensures responsible access to upland areas.
It said the hills were even more relevant during times of austerity.
The MCofS has launched a manifesto in the run up to the Scottish Parliament's elections in May.
It calls for the newly-elected government to recognise the importance of Scotland's uplands to tourism.
The council also wants vulnerable landscapes to be protected from renewable energy projects, but said small-scale community projects should be encouraged.
'Mental well-being'
MCofS access and conservation officer Hebe Carus said government funding and policies played a role in protecting rights of access and conserving wild lands.
She said: "In this time of austerity, mountaineering is even more relevant.
"For many it is an escape from financial concerns, but it is one of a huge range of demands on public money.
"Is it an essential? Is it the icing on the cake that should not receive investment until we have paid off our debts?"
Ms Carus added: "We cannot afford to put the physical and mental well-being benefits that a large number of people gain from mountaineering on the back burner just when people need it the most."