'Secret' Jacobite society opens to general membership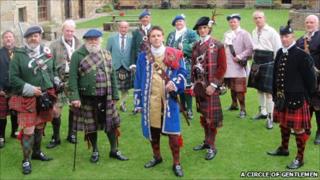 A group that has its roots in a secret society which remained loyal to Bonnie Prince Charlie after the Battle of Culloden has opened up its membership.
Until now people have had to receive an invitation to join A Circle of Gentlemen.
Circle commodore Matthew Donnachie said by encouraging general membership, a fund could be created to support heritage and archaeology projects.
The move comes in the 265th anniversary year of the Battle of Culloden.
Established in Edinburgh in 1748, the original secret circle continued to back the prince after the Jacobites' defeat at Culloden, near Inverness, in 1746.
Its members continued to meet late into the 18th Century.
The modern version of the society followed discussions between Jacobite enthusiasts during the 1990s.
For the first time, the group has opened its membership to people living anywhere in the world.
Mr Donnachie, a clinical dental technician working in Inverness, said he regularly received requests from people wishing to join but had to politely turn them down.
He said: "The society is controlled by a council of 10 members who have been involved for many years and work hard for the circle.
"Other fellows of the circle are people we have come to know and were invited to join.
"We have never really sought membership before and was more membership by association as a secret society would have been."
"By opening up to general membership we hope to actively effect some good."
Alasdair MacNeill and Derek Joy, two other circle members, have been revamping the society's website to coincide with the move.
A percentage of the society's net profits will be made available to heritage and archaeology projects linked to the Jacobite period.
Funds will also be used to purchase relics from auctions of private collections and then make the items widely available to the public.
In April 2009, Mr Donnachie bought a length of tartan curtain in a Bonhams auction.
The cloth had formed part of drapes in a bedroom of Culloden House, near Inverness, at the time Prince Charles Edward Stewart requisitioned the property as his headquarters before the battle.
Mr Donnachie said it was hoped to repeat this kind of work, but on a larger scale.
He said: "There are many potential projects that could be supported.
"There are many graves known locally but not necessarily by people visiting the Highlands. There is one on the Grantown road which you see occasionally with flowers next to it.
"Many are starting to disappear beneath the moss and the sod."