'No decision' on coastguard closure plan minister says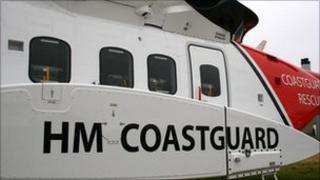 The UK transport secretary has denied accusations that the ongoing consultation into the closure of coastguard stations is a sham.
Philip Hammond was responding to a report that leaked documents indicate plans to shut Shetland and Liverpool and save Belfast and Stornoway.
Speaking in the Commons, Mr Hammond insisted the case for closures was too close to call and needed consultation.
The cuts are also being debated in the Scottish Parliament.
A report in the Liverpool Echo said Department of Transport papers showed Liverpool and Shetland were originally left out of the consultation process announced in December last year.
Under UK government plans, 10 of the UK's 18 round-the-clock coastguard centres could close in an effort to reduce costs and modernise the service.
Five remaining sites will operate just during daylight, with the only 24-hour centres planned for Aberdeen, Dover and the Southampton/Portsmouth area.
The five daylight-only stations will be Swansea, Falmouth in Cornwall, Humber, either Belfast or Liverpool, and either Stornoway or Shetland.
'Serious concerns'
Mr Hammond said: "Ministers looked at the proposals that were made by officials within the department and judged that the case as between Belfast and Liverpool and as between Stornoway and Shetland were so close that the consultation should go forward."
He added that there was not "a clear and definitive business case" to make decisions without first consulting publicly.
The SNP's Alasdair Allan has support from Liberal Democrat and Green MSPs to his coastguard centre cuts debate in the Scottish Parliament.
Mr Allan will urge the Scottish government to continue its opposition.
The Western Isles MSP said his debate would give MSPs of all parties the chance to make clear their stance on the planned cuts.
Mr Allan said: "These cuts, which would see the work of five stations effectively centralised in one full-time station and one station operating in daylight hours only, have raised serious concerns about safety.
"Above all, these proposals would deny the coastguard the benefit of essential local knowledge around Scotland's coastline."
He added: "I know that colleagues representing other areas affected, particularly Shetland, have indicated their keenness to take part in this debate, which calls on the Scottish government to continue to oppose these UK proposals in the strongest possible terms."
Gaelic names
A "Save Shetland Coastguard" campaign has secured more than 5,000 signatures.
Angus Campbell, leader of Western Isles Council - Comhairle nan Eilean Siar - said centralising control rooms was at the risk of losing local coastguards' knowledge.
He told BBC Radio Scotland's Good Morning Scotland programme: "There have been numerous times in the last year where they've had calls from people in distress and where the local knowledge has been vitally important."
Mr Campbell said Gaelic place names on the islands and along the west coast could cause confusion.
He added: "Timing is very, very important in some of these incidents."