Plockton traditional music school funds to be cut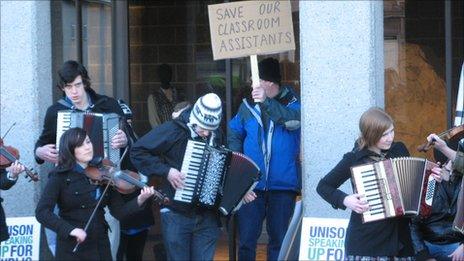 Highland Council has confirmed it will withdraw more than £300,000 in funding from the National Centre of Excellence in Traditional Music in Plockton.
Musicians campaigning against the cut were among more than 100 protesters who gathered in Inverness as councillors met to set the 2011/12 budget.
The council said alternative funding for the school should be sought.
A move to end all classroom assistants' posts in primaries has not gone ahead as proposed.
Highland Council has agreed to set up a cross-party working group to review - before this summer - the level of assistance provided in primary school classrooms.
In doing so, it agreed to reduce the amount of savings to be taken from classroom assistants in 2011/12 from £883,000 to £319,000.
Bill Fernie, chairman of the education culture and sport committee, said that the proposal to cease provision of 344 classroom assistants had generated significant concern among teachers, parents and school groups.
He said: "We cannot ignore the large number of representations we have received from throughout the Highlands.
"Clearly this is a service that is highly regarded by many."
Both issues went to a vote with SNP councillors leading opposition to withdrawing funding to the music centre and also any cuts being made to classroom assistants.
On the Plockton school, the vote went 43 in favour of ending support, 25 against and three abstentions.
In the Scottish Parliament, Liberal Democrat leader Tavish Scott has called for more Scottish government support for the school.
First Minister Alex Salmond said government funding for the centre was already in Highland's settlement.
During First Minister's Questions, Mr Salmond said Education Minister Michael Russell had met with Plockton's MSP John Farquhar Munro.
He added that he would be surprised if the two men had not agreed a way forward that would allow the music school to continue.
Highland Council budget leader David Alston said the Scottish government should be involved in talks on finding alternative funding.
He said: "National government cannot have it both ways.
"National government said there wasn't ring fenced money, now they say there is and they want to take the credit for removing ring fencing."
George Hendry, chairman of the music centre's parent council, said councillors who praised the school and then voted against its continued funding made the wrong decision.
He said: "I accept the fine words and all the praise that has gone on for the school and I can vouch for it.
"But the reality is at the end of the day they pressed the wrong button."
The meeting also saw the budget for 2011/12 set at £598.7m and frozen the council tax, which at band D will amount to £1,163.
Western Isles Council - Comhairle nan Eilean Siar - will meet to set its budget on 17 February.
The political make-up of Highland Council changed in the lead up to the budget meeting following the resignations of Liberal Democrat councillors Janet Campbell and Glynis Sinclair.
Ms Campbell has joined the Independent Members' Group and Mrs Sinclair said she was now "non-aligned".
Highland now has 25 Independent, 20 Liberal Democrat, 17 SNP, seven Labour, six Independent Members' Group, four Independent Alliance and one non-aligned councillors.
Highland Council has sought to achieve £59m of savings over three years.
The SNP group of Highland Council had also opposed an end to £80,000 annual funding for a community mediation service.
The organisation provides independent mediation services to people with neighbourhood disputes and has received funding through the council's anti-social behaviour budget.
Related Internet Links
The BBC is not responsible for the content of external sites.