Text message helped girl abducted in Thurso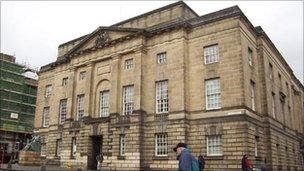 A girl appealed for help in a text message to a friend as she was being dragged towards a house by a man, the High Court in Edinburgh has heard.
John McPhee, 58, of Thurso, admitted abducting the 14-year-old on 25 November last year.
The court heard his victim managed to get away from him after her friend came to her aid.
Judge Lord Stewart called for reports and McPhee was remanded in custody pending a further hearing in May.
Advocate depute Alastair Carmichael, prosecuting, said McPhee had grabbed the girl as she left a house in Thurso and began to "frog-march" her towards his home.
The girl managed to write a text and later struggled free when her friend arrived on the scene.
The court heard that McPhee's arrest led to him being charged with other offences going back to 2006.
Police had been unable to prosecute then because a lack of evidence, judge Lord Stewart was told.
The court heard McPhee had made unwelcome advances to a 33-year-old woman at a party in Thurso in June 2006.
He also invited two 14-year-olds to his home some time during the school holidays that year and frightened them by making disturbing comments.
McPhee also begged for sex while a 32-year-old woman was doing her washing.
He attacked a 15-year-old girl in a house in Thurso, pushing her back on to a couch before she was able to flee.
At the high court, McPhee pleaded guilty to abduction and three charges of breach of the peace and a charge of assault.
His name has now been added to the sex offenders' register.
Related Internet Links
The BBC is not responsible for the content of external sites.