Skiers to get slushy at Glencoe and Nevis Range resorts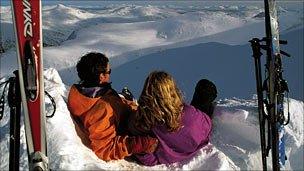 Scottish ski resorts are to offer single people the chance to find love in a cold climate as part of Valentine's Day celebrations.
Glencoe Mountain Resort will host ski dating on Sunday, using its Main Basin run and t-bar lift to give participants five minutes with a different person.
Those taking part can fill in score cards and swap details.
Nevis Range, near Fort William, will offer skiing lessons on Monday where singles can meet up.
Human biology teacher Dr Niall MacFarlane, of the University of Glasgow, said previous research by two psychologists suggested skiing and snowboarding could make a person more attractive.
"The idea of excitement/fear being related to developing emotional attachments or love has been about for a long time," he said.
"The classic studies in this area stem from an original observation in 1974.
"Arthur Aron and Don Dutton showed that a young woman became twice as attractive to men under conditions that we might now describe as being 'extreme sports' - they were on rope bridges.
"This study lead to the idea that an 'adrenalin rush' associated with extreme sport will mimic the same feelings we experience during the early phase of physical attraction."
Related Internet Links
The BBC is not responsible for the content of external sites.